Enjoy your stay at Hotel Hachiman
Getting to Omi Hachiman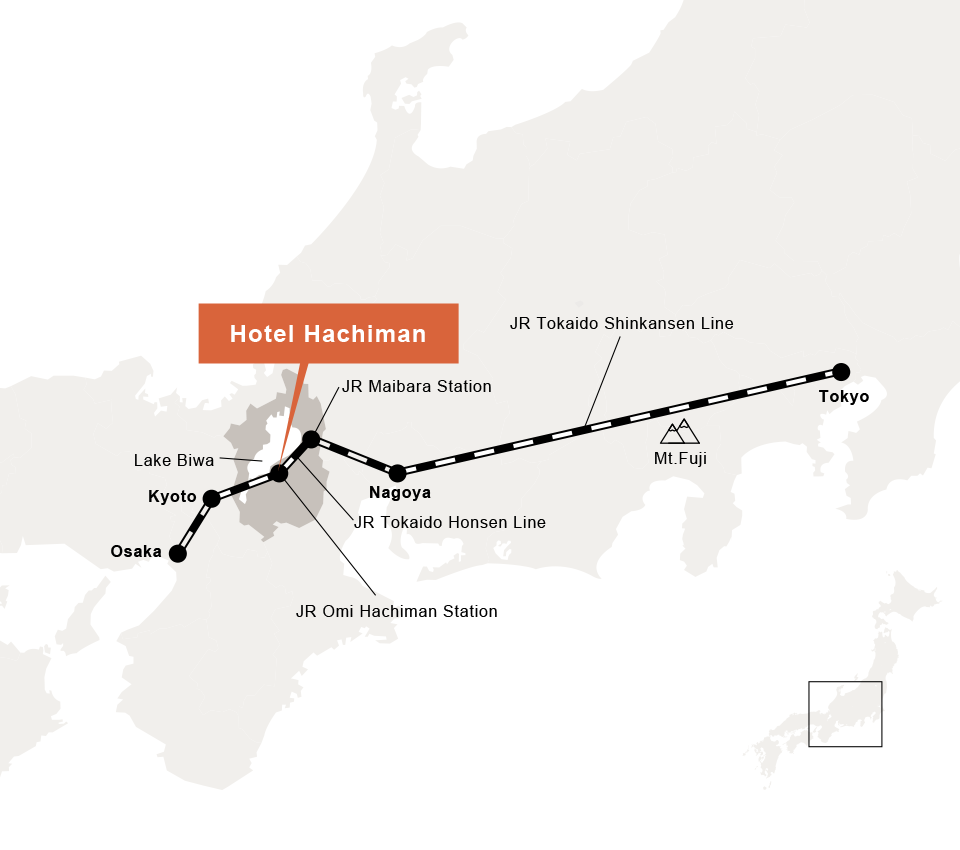 - From Kyoto Station, JR's Shin Kaisoku express train takes 34 minutes to Omi Hachiman Station.
- From Tokyo, it takes 2 hours 12 minutes to Maibara Station by JR Tokaido Shinkansen Line. From Maibara Station, it is 22 minutes from Maibara Station to Omi-Hachiman Station by JR Tokaido Honsen Line.
See a beautifully preserved merchant town and the largest lake in Japan
Omi-Hachiman is a small castle town in Shiga Prefecture.
Omi-Hachiman was built in 16th century, under the auspices of a nephew and retainer of warlord Toyotomi Hideyoshi, close to the eastern end of Lake Biwa, Japan's largest lake.

The town was divided until the mid-nineteenth century by the Hachiman-bori Canal.
North of this canal lived samurai, south the common people.
Other areas were reserved, for example, for merchants, who supplied the market in nearby Kyoto.
Sightseeing
Himure Hachimangu Shrine
Himure Hachimangu Shrine is the biggest Shinto shrine in Omi-Hachiman.
A god of war is the main deity enshrined here, and the shrine's historical warrior connections are strong.
Himure Hachimangu hosts two springtime festivals: the Sagicho Matsuri in March and Hachiman Matsuri in April.
Hachiman-bori
On Hachiman-bori are white-walled storehouses and 19th-century houses such as Haku-un-kan, which was designed by William Vories, an American missionary and architect who left a legacy of elegant homes and buildings in Kyoto and its surroundings.
The Haku-un-kan is located directly in front of the canal, which if crossed will take you to several shrines and the ropeway.
Hachimanyama Ropeway
Hachimanyama Ropeway takes you up a hill, about 160 meters high, with great views at the top of Lake Biwa.
Also at the top of the ropeway are various installations on the theme of "love." Hours: 9 am-4.30 pm, every 15 minutes.
about us
Hotel Hachiman is a reasonably priced hotel located a 5-minute walk from JR Omi-Hachiman Station. It is an ideal base for seeing the city sights of Omi-Hachiman, activities on and around Lake Biwa, and sightseeing in Kyoto. Relax here on a business trip, when traveling solo or with your family.
Guestroom
This is the only place in Omi-Hachiman that has rooms with separate bathrooms and toilets.
Choose the type of room that best suits your style of stay, either a Western-style room with beds or a Japanese-style room with tatami flooring.
We also have large Japanese-style rooms that can accommodate up to 5 people, so we can accommodate families and groups.
Breakfast
The breakfast buffet at Hotel Hachiman offers a Japanese-style home cooked menu with plenty of vegetables.
It is served in buffet style, so you can enjoy your favorite food from a richly varied menu that includes rice, pasta, salads and cooked dishes.
Enjoy a healthy and hearty breakfast to get your day off to a good start.